SNK-like 2007/04/02 "This day was an anniversary that started to associate with him by accident, and I felt mysterious edge that I received" Glass Shoes "at a great timing☆"
Comfort Kook
Product has arrived safely on March 31!
On this day, it was an anniversary that I started to get along with him, and I felt mysterious edge again that I received "Glass Shoes" at a great timing☆ 
When I opened it, I was alone at home, but I was surprised by the beautifulness of too much.☆ 
The impression is still continuing! No, I think it will last! !
Actually, the other day, I found the "H & S ETERNAL" shoes with flowers, where I was looking at the new box introduction!
If you do not see yet, our shoes? ! And at the same time, I was very happy to be on this site, which is a fan☆ 
("ETERNAL" dates for the first time on March 31, 2 years ago, and the movie that came to that time was the title "Eternal Sunshine", so I took it from there)
Real glass shoes are really nice! It is more than imagined☆Because I purchased a pen, we propose the ideas in red and white, and make it a table body with less air bubbles,
Furthermore, thank you very much for giving a present to the replace nozzle! I was very happy♪ 
Thank you very much for your warmth of Ito.
The new box is also shining! I really liked it☆The motif of "watches over 12 o'clock" makes imagination swelling. Certainly, the magic will be solved if it passes by 12 o'clock in the story of Cinderella. However, if you believe in yourself to be in Gate's phrase, the magic will not be solved much more ... magic will exist as a realistic reality ... I interpreted, but if it is wrong, Sumimasen★ 
I thought I would like to ask you about the interpretation of Ito.
This time, I was particular about red and silver (white), because I used the wedding color. With the meaning of red and white.
Therefore, the new box of red stand is ideal.
After using it as a ring pillow in Chapel, of course, it will be decorated to the reception♪ 
From now on, everyone's reaction is fun.
This time, I met lovely sites and Ito, we are happy☆Don't forget the pure feeling like a young age who had been in love with "Glass Shoes", and go to the future of this "Glass Shoes", with the "Glass Shoes", which has come to the future of the Comfort Cook. I would like.
Thank you very much! !
Sorry for the long sentence★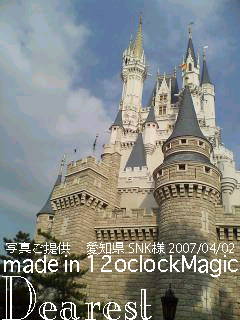 From SNK, two more photos were delivered immediately after this email. Two years ago, it is a snap photo taken with a mobile phone camera when he traveled to "Neushbanstein Castle" with friends and Germany. This castle who became a model of Cinderella Castle in Disneyland. If you borrow the words of SNK as they are,
"Neuschwanstein Castle was a very good appearance castle with the end point of romantic highway !! The image is a suspension bridge over the Canyon of the cliff cliff (a little scary), so it is a castle seen from the Marien Bridge, It is not the front, but it seems to be a superb view point.
When you receive this SNK's letter of letters, at the same time, SNK has been strongly helped to start blogging. If you start a blog, you first promised to publish SNK's letter. But at that time, various things overlap and I can not write a blog. Now, in the site update, you can introduce you to the blog, and you can introduce your letter properly, and finally you can introduce SNK's letter and photo to everyone.
Well, SNK was asked in the letter "My Interpretation" said this time.
... "Glass shoes" also devised "time". (After: Under the movie "Eternal Sunshine") SNK 's s s snes' interpretation. I think this special ability, which comes to imagination and human beings for "dream", is an engine that makes the future. After all in terms of long life, I think that the magic of Goethe is really realized.
Moreover, it is strange because it is sometimes guided by "edge" and "destiny", so it is wondering. Now, "Glass shoes" at hand. I think that SNK magic is now certificated to achieve more and more.
(The composition that says that the production side says such a thing, this is a strange commercial law? I wondered if it was a similar composition, but I thought that I wrote and noticed it, but I think it is a magical imagination = magic. If the future is only done so, I think the future is actually created.)
... SNK, who has had such communication opportunities, an opportunity to notice, is also a special customer. At this time, I think it was good to do this work. Even if there are various things, this moment is full of gratitude, and the extra feelings will be retired. <(_ _)>
"Glass shoes" that could be delivered to SNK "special day", but it is an unexpected accident, but it may be "magic" to SNK with Arranged Arranged ...